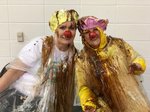 Ringgold Primary administrators Valerie Bonine and Nancy Gurganus were covered in syrup, whipped cream, sprinkles and cherries during an assembly as a reward for RPS students meeting their reading goal.
Students read over 1,000 books in two weeks
Ringgold Primary School students recently received a challenge from their principals to read 1,000 or more books in just two weeks. This was part of an effort to promote their upcoming family reading night, "Camp Read S'more," and boost literacy skills by adding a few extra minutes of daily reading at home. RPS students not only met this goal, they well exceeded it by reading over 2,300 books during the challenge. The top readers were rewarded by getting to help turn Principal Nancy Gurganus and Assistant Principal Valerie Bonine into human ice cream sundaes in front of the entire school at their March pep rally.
"I am so proud of our RPS students for reading over 1,000 books! It was fun to see their excitement as they decorated us as human sundaes," said Principal Gurganus. Mrs. Bonine agreed, saying, "Our students worked so hard to crush their reading goal! They absolutely loved seeing us get covered in syrup, sprinkles, whipped cream, and cherries. I can't wait until next year's reading challenge."
At RPS, parents, teachers, and students work together to create a positive learning environment with high expectations for student growth. Activities such as, "Camp Read S'more," and other reading rewards help involve students in the development of their educational experience.