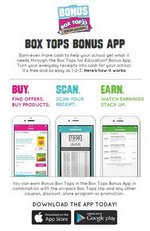 Download the app today!
Turn your receipts into cash for RPS!
You can earn Bonus Box Tops in the Box Top Bonus App in combination with the on-pack Box Tops clip and any other coupon, discount, store program or promotion!
BUY ~ SCAN ~ EARN
Download the Box Tops Bonus App today!